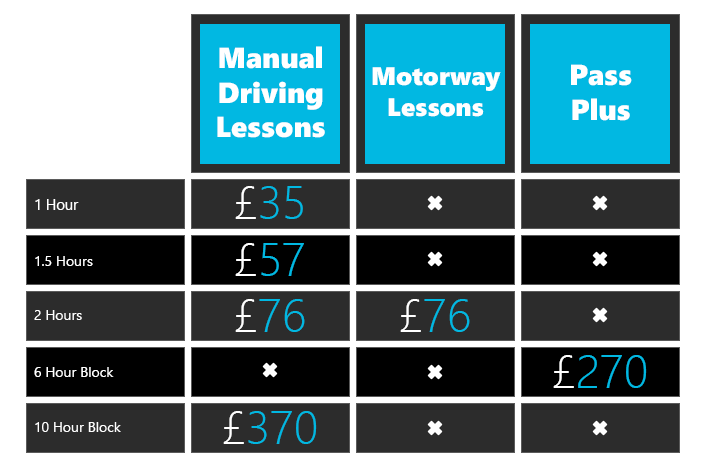 Use of vehicle on day of practical test - £75

Motorway Lessons
Whether you are newly qualified or have been driving for years, gain experience on the Motorway for the first time with a professional instructor.
Motorway lesson - Provisional licence holder - min 2 hours - £60
Pass Plus
This course helps the newly qualified driver to gain further road knowledge on all road types and experience motorway driving for the first time with a professional instructor. The Pass Plus course duration is a minimum of 6 hours as specified by the DVSA.

Payment Methods
All lessons are to be paid for in advance, by Cash, Cheque or Bank Transfer.
Discounted rate only available on a full payment of 10 hours.  Should a refund need to be made, any lessons already taken will be deducted at the current single hourly rate and then the remainder of the balance paid.
Benefits of taking your driving lessons with U Can Drive 2
DVSA Grade A Driving Instructor (Grade awarded Oct 2014)
Free access to Theory Test Pro
Free Lesson Handouts
Free Drivers Record
Full hour tuition (or multiples thereof)
Female Instructor
One to one tuition (no car sharing)
Would you like a FREE Driving Lesson?!
Simply recommend a friend takes their driving lessons with U Can Drive 2 and once your friend has paid for and completed their first two lessons you will then receive your one hour free lesson. The more friends you recommend the more free lessons you'll receive!